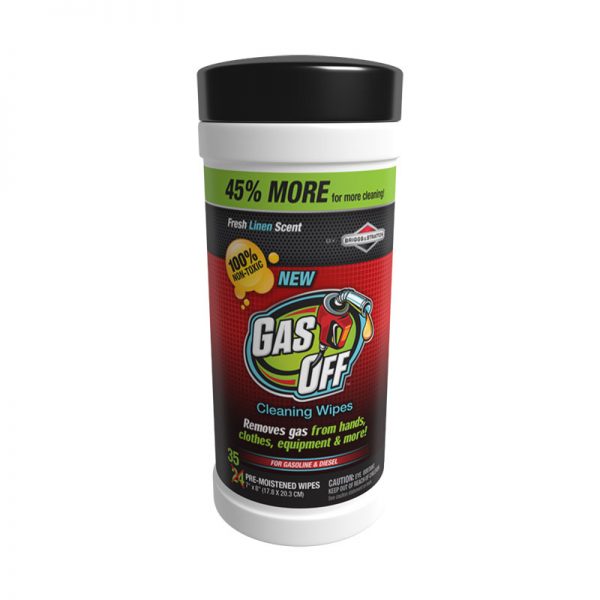 Residue & Odor Eliminator Cleaning Wipe Canister
Keep Gas Off cleaning wipe canisters on hand at the auto shop, maintenance garage or even in the back seat to keep unwelcome gasoline smells off of you and your workspace!
Ever wondered how to get rid of gasoline smell? Especially in the car…but then what about how to get gas smell off of your hands?
Removing gasoline and diesel smell is what Gas Off was designed to do. It removes gas and diesel odor and residue from your hands and surfaces after overspills!
The Gas Off Canister contains 35 pre-moistened cleaning wipes with a fresh linen scent!
Gas Off is Safe for Your Hands and Surfaces
Gas Off Hand & Surface Cleaning Wipes are:
Solvent free
Non-alcohol based
100% non-toxic*
Each neutralizes and transfers gas odors and residue from all surfaces while being gentle on hands and skin.
Gas Off wet wipes are safe on:
Fabrics
Paint finishes
Chrome
Plastic surfaces
Rubber hoses
Variety of other household items
Gas Off Hand and Surface Wet Wipes are Conveniently Packaged
Available as single use packets, 15-count flat packs and 8 oz. spray bottle. Gas Off can be stored virtually anywhere: in the glove box, the saddle bag, the tool box, on the work bench, or even in your pocket.
Part Number 100155